Collection: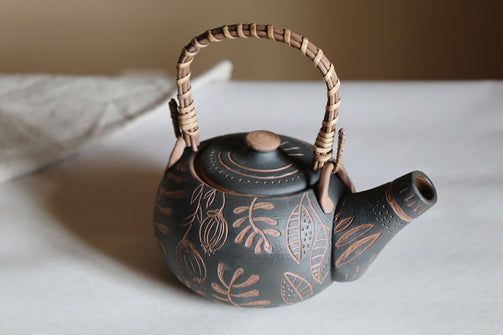 Collection:
Hand-Carved Floral Tea Set
Hand-Carved Floral Tea Set
Regular price

Sale price

$175.00
Hand carved in the traditional style of sgraffito, this tea set was crafted as a celebration of nature. The sand clay teapot has a matte black glaze finish which the artist carved away to create the decoration. 

This set is an art piece, but also functional. The two mugs that come with the teapot can also be used for coffee on days you need that extra kick.  
Tea set comes with one teapot and two mugs.
---
Clay body: Stoneware red
Glaze: Black Matte & Clear (inside)
Note: every piece is handmade, which means there can be variations of size, color, and shape between pieces. I also create my pottery in sets, so if you want more than one of a certain piece, I recommend getting them at the same so they match as close as possible.