Collection: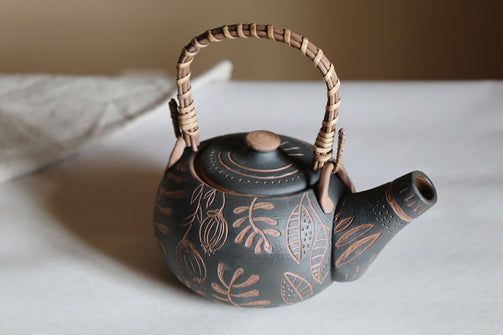 Collection:
Hand-Carved Floral Teapot
Hand-Carved Floral Teapot
Regular price

Sale price

$150.00
Hand carved in the traditional style of sgraffito, this teapot was decorated as a celebration of foliage. The sand clay teapot has a matte black glaze finish which the artist carved away to create the decoration. 

This is an art piece, but also functional as a teapot. You cannot put it directly on the stove, but you can pour water you've heated in a kettle into the teapot. 
---
Clay body: Stoneware red
Glaze: Black Matte & Clear (inside)
Note: every piece is handmade, which means there can be variations of size, color, and shape between pieces. I also create my pottery in sets, so if you want more than one of a certain piece, I recommend getting them at the same so they match as close as possible.